In 1999, the Lord called Joe and Esther Keim, who are formerly Amish, to reach out to the Amish and former Amish locally in Ashland County as well as widespread to communities across the country. The Keims created a ministry called Mission to the Amish People or "MAP" for short. MAP helps former Amish adults get their birth records, social security numbers, and driver's licenses.  The ministry also provides GED classes, mentoring and discipleship sessions, and counseling; it has a goal of meeting the physical, emotional and spiritual needs of those who come for help.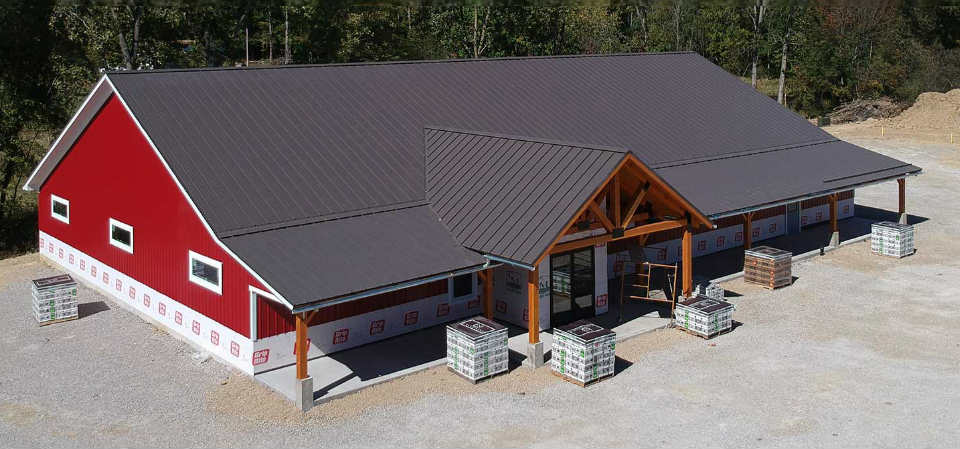 In 2016, MAP took a bold step of faith and began raising funds to build a 6,000 sq. ft. bulk food store to serve the community as well as aid the families and individuals who are leaving their culture and need help getting established in the English society.  Many of the individuals that are staying at New Beginnings Homestead will have the opportunity to train at the store, learn the retail business, make an income, and help pay for their own living expenses.
On March 8, 2018, Beyond Measure Market opened its doors and began serving the public. Today, the Market carries a full line of deli meats and cheeses, bulk foods, ice cream cones, subs and sandwiches, salads, fresh produce, freezer items and gifts. We enjoy serving the members of our community and look forward to growing as the Lord leads in the years to come.
To learn more about the founders of Mission to Amish People (MAP), please go to http://www.mapministry.org/about/our-story
Elsie Miller: I started a new life in the English world here at Mission to Amish People. I was blessed with many good friends and people who are like Family including my mentor, Velda.
I gave and surrendered my life to Christ. I have everything in place for my future – a lot of goals have been met, a lot of debt paid off, and my mental health is straightened out. I got reconnected with my family, started dating after two years of being single, and changed a lot of patterns connected to my former life in the Amish.
I'm well on my way to a position for Leadership in my job and have received three pay increases in one year. I feel ready to go on my own pretty much.
Aaron Schwartzentruber: I left the Amish a few years ago, but then I fell on hard times. I lost my job, my apartment and had no money. I was homeless for several weeks. MAP took me in and housed me. I am now working a full-time job and living in my own apartment. I also surrendered my life to Jesus Christ and have been faithfully attending Bible studies and church ever since.
John Shetler: I left the Amish a few years ago, and MAP provided me with housing until I could get on my feet. They had also taken my two sisters in when they left the Amish. My older sister and MAP helped me get my US Citizenship, birth record, and other necessary identification records. Along the way, I made some choices that got me in trouble with the law, which caused me to have to return to MAP for housing and help. Every week, I have a Bible study with the director and founder of Mission to Amish People. I plan on getting baptized soon. It was at this age that I I had my very first mental breakdown. I was at my worst I ever was. 
I went to a caring for the heart counseling Light & Hope Ministries. Mary taught me about Jesus.
Katie Lee: My husband and I were dropped off at Mission to Amish People on Christmas Day. Except for the clothes on our back, we had nothing. We were homeless. MAP provided us with housing and helped us get birth records, social security numbers, a car and job. It took over a year to get a birth record made out in my name, but with the help of MAP, that became a reality. Today, we have a little boy named Michael, jobs and a place to live. Recently, my husband and I also both cried out to Jesus, and He saved us.
Eli and Caroline Schrock: Caroline was born in Canada. Like so many others, my family moved to the United States without changing citizenship. When Eli and Caroline left the Amish, they suddenly needed a birth certificate and driver's license to get a job. It's been two years, they've spent thousands of dollars, but still no US Citizenship. MAP is in the process of helping.
Mahlon Burkholder: I left in the middle of the night from Ulysses, PA. I got dropped off at MAP, and they housed me for about six months. They also helped me get my social security number, driver's license, a job and open up a bank account in my name.
I got saved after going through a Bible study with Joe, the founder and director of MAP. I have no doubt in my mind that I now belong to the Lord. Recently, I moved back to Ulysses, PA to be closer to my family.
Sam Miller: My family and I left the Amish together when dad went to prison, and MAP helped us through most of the process. As an adult, I fell off a roof and was in a coma for several weeks. When I got out of the hospital, Mission to Amish People helped provide housing for me; they also provided counseling and taxi service.
Steven Yoder: I left my Amish home in Michigan, and MAP housed me for almost nine months. They not only provided a home for me, but helped me get a job, driver's license and my first vehicle. However, eventually, I moved back with my family and re-joined the Amish.